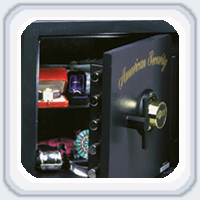 Job descriptions, project demands, and client requirements often dictate the safe required for our office. If that is the case, then give us a call and we will help you find the safe that meets your criteria and deliver it as soon as possible. We also work with new offices and branches, insuring that opening day is not delayed.
A-1 Safe & Vault offers a huge variety of safe for every commercial need, including Deposit Safes, Drop Safes, Under Counter Drawer Safes, Fire Safes, and even Vaults. If your need is not met by the safes we have available we also create custom safes, and will design exactly what you need.
We will help you with every step of the process, and even help with Insurance companies to make sure you are getting the best value for your purchase.