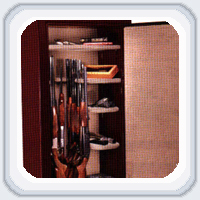 The last thing any gun collector wants to see is an empty space on the rifle rack were a rifle use to be. The investment in a well made gun safe limits liability, adds to the life span of your collection, lowers homeowner/theft insurance, and lessens the chance that your home will become the target of intrusion.
Despite the growing number of States which have passed Safe Storage or Child Access Prevention ("CAP") laws, there are few gun collectors who don't see the gun safe as a welcome item in their home (children or no). No other storage item seriously comes close to the protection and security offered by a full sized gun safe.
A large part of our business involves traveling to Gun Shows. Not only is it a great reason to get out of the office for a while, but we get to meet with some of the most knowledgeable collectors in the country. One item all of them agree on is that a real gun safe for a collector is a question of "when", not "if". While these titans are not 'quick enough' access safes, they were never meant to be. Even if you get the lock open in record time, just swinging open the door to get at your firearm is too slow to be considered quick response. For home security you really want to consider some of our Hand Gun personal safes, designed for quick access and secure storage.
Some typical features which any standard gun safe has:
• Adjustable barrel supports
• Padded fabric interior
• Material and supply shelves
• Solid theft deterrent
• Polish coat exterior
• Fire Protection
• Combination Dial
• Electronic Locks
• Door Bolts
High-end safes even have environmental controls
Other Items to consider
Many collectors have specific needs or designs. There is a huge list of available customization areas for the personal gun safe.
Before making a final decision on which safe to get, check with your insurance broker to see what specifications qualify you for discounts.
If you have any questions on the quality or features of a safe (whether we appear to sell that type or not), send us an email. We would be happy to help you with your purchase.